Did you just say, what this website maintenance fuss is all about?
Well, then you are surely in need of getting professional website maintenance services right now.
Still thinking Why?
Of course, to have an error-free, long-running fully secure website that outperforms competition when it comes to features & functionality.
The website maintenance is the prerequisite for a business to harness a vibrant and long-lasting online presence. Constantly updated quality-rich content improves the interest of the viewers and maintains a good flow of traffic. No wonder, your website has to be checked regularly for bugs, efficient functioning of all the pages, current images and many other tasks, which can only be handled competently by the professionals at Pepper Designs.
Our experts are well-experienced and knowledgeable in maintaining your websites so that your business thrives on the freshest content, moves up the ranking on search engines by keeping up with the updated rules, and periodic up-gradation. We provide the most cost-effective website maintenance services in Delhi NCR, revise your web pages regularly, and assist you in maintaining a fresh and current profile.
Still not convinced? Please continue reading...
We believe that website maintenance gives you a sustainable competitive edge and so we help you build and manage a competent website through our best of skills and abilities. We work in tandem with the customer's needs and upkeep their functional websites by revising, editing and improving the web pages. When we maintain the client's websites adeptly, they can focus on their core competencies and work towards a successful enterprise.
Website maintenance encompasses the following services: Updates on websites like modification, deletion, and the addition of website content and pages, replacement of pictures, maintenance of email lists, uploading and pdf creation, etc.
Development languages and technologies:Microsoft.NET, ASP.NET, VB.NET, PHP, Java, Perl, MS Office, Active Server Pages (ASP), Java Server Pages (JSP), XML, XSL, SOAP, WAP, WML
Interface Design tools, languages, and applications: HTML, DHTML, AJAX, JavaScript, CSS, Adobe Photoshop, Adobe Illustrator, Macromedia Flash
Database Servers: SQL Server, Oracle, MySQL, Access, Sybase
Website Add-Ons: We provide effective website maintenance services to our clients so they can maintain their sites and keep them updated after the design work is done.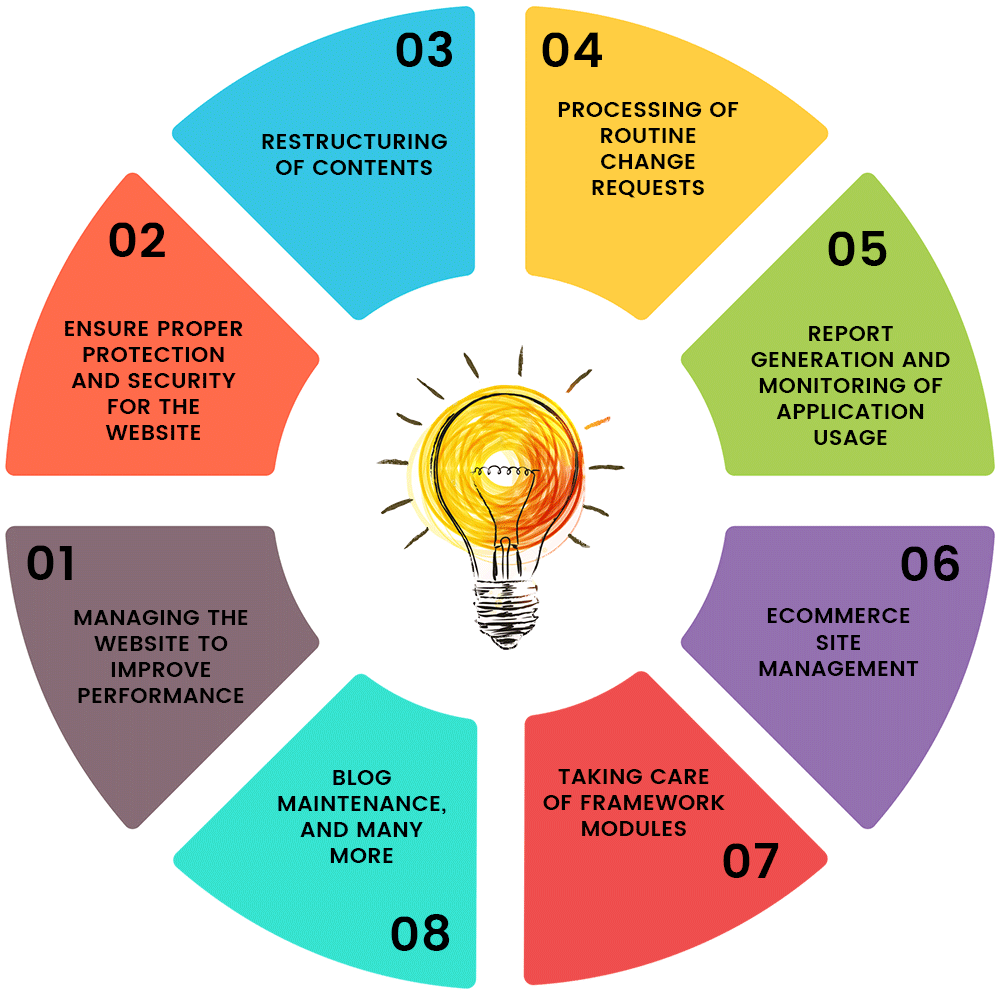 Our available website add-on services include, but are not limited to:
Website maintenance plans
Adding buttons and graphics
Uploading products
Adding pages
Photo slideshows
Flipbooks
Newsletter setup
Add facebook & twitter icons
Blog installation
Why choose us for your website maintenance?
Lets you spend more time to focus on doing business rather than spending numerous hours learning how to maintain your site.
We know that your site and the information on it are important to you. So, we do our best to get it right the first time! Corrections are honestly acknowledged and fixed at our expense.
Quick turnaround - Updates are usually done within 2 to 24 hours
(except holidays and weekends)
If you are thinking of saving money by doing it yourself. Well, hold your thought!
The activities performed by professional website managers are far more competent and better in doing this.
We have seen this happen with a simple website that we designed for one of our clients. The staff of the client's company took over upgrading, and within 2 months the site had broken links and the navigation structure was in shambles. The saving was definitely lost in the appearance of the site. No wonder, we don't want this to happen with yours!
The websites can be unintentionally damaged by incompetent upgrading. Links can be broken or lost, files exposed or deleted.
Our website maintenance services protect your investment. We watch over your site on an ongoing basis.
Your website is kept up-to-date along with an effective content editing which can be accomplished with updated information. Just email the information or pictures and we will upload it, quickly, with a trained eye to the overall effect of your site.
For us, it is not only a job but our passion.

Believe it or not, We eat, sleep, walk, talk (excess) internet throughout the day.

How We Do It

The website maintenance can be easily and quickly displayed back via a private web address known only to you for you to view at your convenience. Once the revisions have been approved, then we load the revised files onto your hosting server.
We make website maintenance a simple, stress-free experience. You will be assigned a single contact person who knows you and your project - you won't be shuffled around and have to start at square one explaining your project and needs. We are specialized in providing personalized solutions- it's the reason for our long-term association with the clients
Our quality control process ensures that your website maintenance job gets the attention to detail and accuracy that is essential for your site's success. Communications are easily handled with e-mail, fax, and telephone. We always try to accommodate any rush or emergency changes from our clients.
Most Website Maintenance job includes at least the following :
Content update, announcements, articles, etc.
Replace images i.e. pictures & graphics
Adding/removing pages
Image manipulation and addition (client supplied images)
Newsletter & email list maintenance
Shopping cart product updates
Website modification and the addition of website content
Pdf creation and uploading